A Calendar Notification is a message sent to your friend's Dashboard, email, or mobile phone (depending on their Communication Settings) when changes are made to your Calendar. You can send a Calendar Notification to your friend, by adding them to your Share List, setting up your Calendar to send notifications, and ensuring that their Calendar is set to receive notifications.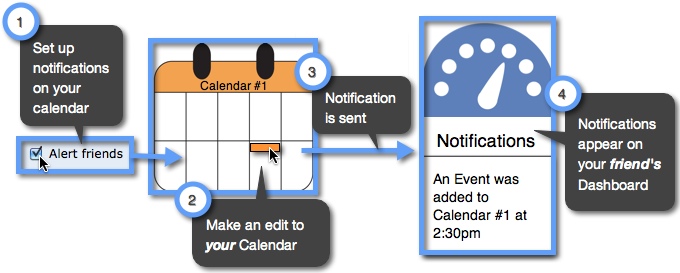 Once Notifications are properly set up, notifications on your friend's Dashboard will be updated automatically whenever someone creates, edits, or comments on something in your Calendar.
Setting up your Calendar to Send Notifications
First, check that your Calendar is shared with your friend. To do this, click on the gray "Share" button above your Calendar to review your Calendar's Share Control.
You can then type your friend's name into the Blank Sharing Field and click on their name. Learn more about how to share your Calendar with others.
After you have selected the Friends you want to share with in your Share List, click on the checkbox next to "Notifications" or click on the checkbox next to individual names in your Share Control, and then your Calendar Notifications will be sent to your friends!
Note: if your friend isn't receiving your Notifications, make sure that they have set up their account to
receive
notifications from you.
Learn how you can both send and receive Calendar Notifications from your share list in the Calendar Notifications solutions folder.